The Irish Central Bank has said it will need to increase the amount of support to the country's banking sector.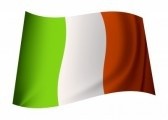 It said supporting Anglo Irish Bank would cost from 29.3bn euros to a "stress scenario" bail-out of up to 34bn euros -£29.2bn. Only last month the cost of the bail-out of Anglo Irish was estimated at between 22-25bn euros.
The cost would push the Irish Republic's fiscal deficit from 12% to a massive 32% of gross domestic product (GDP).
By comparison- including the cost of its bank support, the UK's deficit is around 10% of GDP for this year.
The Irish Republic says its latest announcement represents the final costs of repairing the country's banking system. It hopes this will reassure worried investors.
The Irish Finance Minister, Brian Lenihan, has announced what he hopes will be a comprehensive and final rescue scheme for Ireland's banks, whose reckless lending has mortgaged the entire Irish economy. "
The central bank also said it would also increase support to Allied Irish Bank, which would need 3bn euros before the end of the year.
The Irish Republic is viewed as one of the weakest economies in the eurozone, despite it taking tough action to regain control of its economy.
The extra support for the banking system has led Mr Lenihan to say he will cut another 3bn euros from spending in the budget later this year, a move designed to help shrink the deficit to 3% of GDP by 2014 to keep within eurozone rules.
This week, mounting concern over the Irish economy sent its cost of borrowing on the open markets to a record level.
The latest GDP figures showed the Irish economy contracted by 1.2% for the second quarter. Greece's GDP dropped by 1.5% in the same period.
Mr Lenihan said the country would cancel its bond auctions in October and November and would not return to the bond markets until early in 2011.
The Irish government has previously rejected speculation that it could have difficulty raising funds and might have to seek help from a huge EU rescue fund set up after the Greek debt crisis earlier this year.
The interest rate on Irish government debt due on 10 year bonds reached a record 6.791% on Wednesday.