The Anglo Irish bank has chalked up the biggest corporate loss in Irish history and we also get to see the results of forensic stress tests on the sickest banking system in the eurozone.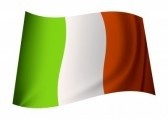 The tests are expected show that Anglo, Bank of Ireland and Allied Irish along with several others are in need of further capital injections to the tune of £ 25 billion to stay in business.
What the stress tests are also expected to reveal are the size and scope of current mortgage arrears, that is, how many and how far behind are a sizable portion of Irish households with their mortgage payments.
In terms of the Euro, the expectations is that recapitalisation number will be horrendous but has so far had little impact in the market as yet.
More focus has been paid to recent reports that the Portuguese do not have enough cash to meet their debt obligations and a bail-out is almost assured.
Again the news flow is very Euro negative, but the single currency seems to be able to brush off everything thrown at it.
Earlier in the day German unemployment figures continued to impress, a ray of light in a potentially dark day.
UK consumer confidence remained at depressed levels according to figures released yesterday but the Pound remains off the radar for many in the market.
Only month end flows are likely to have much of an impact today on Sterling's fortunes with data today inline with the market expectations.