Money markets around the world crashed yesterday on fears that the worldwide recovery is faltering and we could be heading back into another crisis.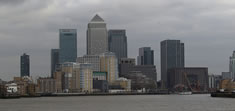 Further rumours about Italy and Spain defaulting on their debt sparked panic across the board with the Dow Jones ending down over 500 points.
The already sinking markets went into meltdown after Jean-Claude Trichet failed to reassure investors that bond buying would be implemented to prevent contagion in the troubled Eurozone.
Trichet said "you will see what we do", yet it was revealed only Irish and Portuguese bonds would be bought.
The unconvincing tone of Trichet led to huge swings in the Eurodollar with the pair ranging 3 cents in the days trading.
Investors led another surge into the safe havens as the Swiss Franc and Japanese Yen strengthened despite the measures from their 2 central banks over the previous days.
Gold reached another record high and we look set to finish the week in fear of what will happen next.
The BoE and ECB both announced no change in their interest rates with the likelihood of any rise in the short-term of the table while the economies struggle to grow.
We end today with the hugely important non-farm payrolls numbers from the US.
This takes extra importance as not only does the US need a strong figure to boost their own problems.
The world's traders will be watching the announcement hoping that a positive result will turn the tide and bring a bottom to the recent sell-off.