The rollercoaster ride continued yesterday as stock markets, fresh from Tuesday's melt up, took another leg down with Banks again taking the brunt of the selling pressure.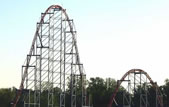 French banks, lead by Soc Gen, posted double digit declines after rumours of the size and scope of their exposure to Eurozone sovereign debt and talk of a French credit downgrade.
Both rumours have been strongly denied by the French authorities and it seems any nugget of information relating to both the Eurozone and US is being magnified hugely as markets depart from fundamentals and trade purely on politics and rumour.
The forex markets were no different, as we saw first a significant move upwards in the Euro-Dollar in the European trading session before it turned into a sharp reversal once the American trading day began.
The Swiss central bank attempted to reverse the recent surge in the Franc by expanding liquidity operations, but the bounce has been short lived so far as the safe haven currency continues to absorb funds fleeing riskier asset classes.
We are also approaching (again) levels were the Bank of Japan will intervene, the tide seems to be flowing against them, but they will continue with intervention until either the market turns or they run out of money and neither looks likely to happen any time soon.
Sterling was talked down by the Bank of England Governor Mervyn King during the Banks Quarterly inflation report yesterday.
We saw a huge move in the Pound in the Asian session on Tuesday night, from 1.64 all the way down to 1.61 and the trend continued yesterday as Mr King announced a downgrading of UK growth prospects and hinted that further QE has not been ruled out.
He stopped short of following the Federal Reserve in locking down monetary policy at current levels for the next two years, suggesting such measures were "not particularly sensible".
Today has started in the same vein as the rest of the week – volatile.
Stock markets are up, which should help risk on currencies like the Euro and Sterling.