Thursday will be the tale of two central banks.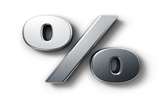 The Bank of England's MPC finish their two day meeting today with growth, or the lack of it, the main point being debated.
With interest rates still at historical lows, further quantitative easing will almost certainly be on the agenda.
Remember, at the last meeting none of the MPC voted for a rate increase, this is down from three members a couple of months ago (although one of them, Andrew Sentence has subsequently left).
The voting preference at last time suggests worries over a stalling economy is increasingly dominating the rate setting meetings.
Sterling has remained under pressure after the three cent move against the Dollar on Tuesday stemming from the SNB intervention to stop the appreciation of the Franc.
The safe haven status of the Swissy has been checked somewhat by the intervention and the USD dollar has benefitted enormously from inflows.
We expect the market to test the resolve of the SNB at the 1.20 level over the coming days, which should lift Sterling but we keep around the 1.59 – 1.13 levels against both the USD and Euro for a lengthy period until the market is either satisfied that the SNB is serious about maintaining the peg or attempts to take on the bank and push the CHF back towards 1.10.
The ECB, in comparison to the BOE, does have room to cut interest rates and it is likely that they are considering doing so over the course of the next few months.
The betting was for another rise before the start of New Year, which is surely off the table given the deterioration in the world economy over the previous month.
The situation is complicated slightly by the arrival of a new ECB head before Christmas, who may want to gain a hawkish reputation early and do this by holding rates steady more than the market is forecasting, but the change in bias has definitely shifted from rate hikes to more of a wait and see which should translate into a slightly weaker Euro moving forward.