Greece will once again be the key driver in the markets for the week ahead as inspectors assess whether the Greek economy is on schedule to meet its debt obligations due next month and so avoid a default.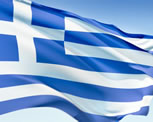 European Union and IMF inspectors are set to hold a conference call today with the Greek finance minister.
Doubts are growing that Greece are still not doing enough to align with the financial assistance provided.
Politically the pressures are growing with Angela Merkel the German chancellor losing another regional election in Berlin, in addition nine out of ten Greeks are dissatisfied with the governments handling of the crisis.
Last week the euro regained some lost ground and Greek two year notes improved for the first time in two months, this followed rhetoric from Germany and France to keep Greece in the euro area.
However this week we once again hit a crunch point and we will see what the divergence is between political will and confidence in the financial markets- Asian currencies have fallen on renewed fear on Euro debt as we kick start the week.
Elsewhere, we have seen a small gain in UK house prices for September in a survey by Rightmove- the Pound has marginally improved against the US Dollar and the euro on the back of this data.
Economic data will also be very important this week following the IMF and OECD pointing to a lower global growth outlook. The highlights will be Bank Of England minutes and Public sector net borrowing from the UK.
The minutes will highlight the thought process of the MPC and the potential for more QE in the future.