The FTSE fell dramatically yesterday losing nearly £50 billion (-3.7%) as traders were bombarded by bad news.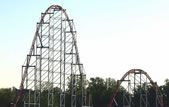 RBS was one of the worst performers, dropping 12 % after it was announced over the weekend that it is being sued by the US Federal Finance Housing Agency over allegations it misled buyers of mortgage portfolios.
Barclays and HSBC, are also in the firing line over a combined $11bn of suspect mortgage packages, lost 6.7 % and 3.8 % respectively.
The banking sector overall hit a two year low.
In addition to the banking news a deeper fall than expected fall in service sector growth also hit the FTSE, with the Markit/CIPS services purchasing managers' index dropping from 55.4 in July to just 51.1.
The bad news was set against the familiar backdrop of Eurozone fears, with German and French indexes also suffering.
Angela Merkel's government faces a court ruling tomorrow over claims Berlin is breaking German law and European treaties by contributing to bailouts.
This morning has seen dramatic events continue, the Swiss National Bank (SNB) set a minimum EURCHF exchange rate of 1.20, citing the recent strength as a threat to their overall economy.
SNB officials claim they have unreserved quantities to enforce the minimum exchange rate of 1.20.
So far this has been successful as we saw the EUR rise of from 1.10 to 1.21 in a matter of minutes.
This has been the latest attempt by the SNB to weaken its "Safe Heaven" currency as export limitations are beginning to hurt their overall economy.
This is dramatic move by the Bank as previous attempts of increasing deposits available to commercial banks coupled with a cut in interest rates has had limited success.
Finally overnight we saw the National Australia Bank maintain interest rates on hold at 4.75% where it has sat for almost one year.
Following the decision, RBA Gov Glenn Stevens said a key question for economic policy makers now is the extent to which global recession fears temper inflation pressures within Australia.
"The uncertainty and financial volatility is reducing confidence and may result in more cautious behavior by firms and households in major countries… At this stage, little evidence is available to gauge any effects of the European and U.S. problems on other regions," he said.