The US Dollar continues to suffer as market hopes of additional US Fed stimulus including additional quantitative easing puts increasing pressure on the currency.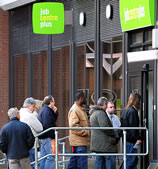 There may also be some indecision to buy US Dollars before tomorrow's Non-Farm Payrolls.
Yesterday's US ADP jobs data were not particularly positive, so this doesn't bode well for tomorrow's number.
The Fed FOMC minutes earlier this week suggested there are a few in the committee who are ready to take more aggressive action which would lead to a weaker Dollar.
Ahead of the jobs data today's August ISM manufacturing survey will offer some direction for markets but if the forecast of a sub 50 outcome proves correct it will only play into expectations of more Fed stimulus leaving the USD to weaken further.
The Euro struggled against the Dollar to break through 1.45 this week but has continued to resist various peripheral bond worries without too much damage, a trend that has been present for the past few months. Despite the fall back, EUR/USD may struggle to sustain a drop below its 100-day moving average at 1.4362.
Sterling has had problems of its own to deal with and has failed to capitalise on any USD tone while losing ground against the EUR.
Data yesterday did not help, with consumer sentiment falling for a third straight month according to the GfK confidence index.
It appears that speculation of further Fed monetary stimulus may also be rubbing off on GBP, with potential for more UK QE likely to act as a weight on the currency.
MPC member Posen added fuel to the fire in comments that he made supporting the need for central banks to undertake more QE.
Sterling looks destined for more weakness in the short term, with support around GBP/USD likely 1.6111 likely to be tested. A below 50 reading for the August manufacturing PMI today, will only add to downside pressure.