Money markets have held steady as they await details of an agreement to resolve the eurozone debt crisis.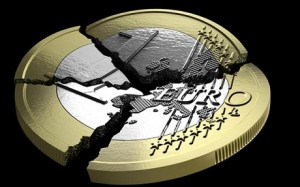 Stock markets and the euro rose in early trading before falling back.
Although a weekend summit of eurozone leaders was inconclusive, the outline of a deal was agreed, with a summit to finalise details set for Wednesday.
Eurozone leaders agreed to force banks to protect themselves against future losses, and to increase the firepower of the single currency's bailout fund.
Following a robust rally in Asian markets, European stock markets had been up 0.5%-1% in the first hour of Monday trading on the apparent progress at the talks.
Asian markets had been lifted by positive data from China and Japan, as well as the apparent progress in Brussels.
But European markets later fell back, and by mid-afternoon trading the Cac 40 index in France and the German Dax were both fractionally lower, while London's FTSE 100 was up just 0.3%.

Market sentiment was not helped by industry surveys released during the morning that suggested the French and German economies are still struggling to avoid recession.
However, key points of disagreement remain.
France had hoped that the European Central Bank (ECB) would support the EFSF, by providing it with loans that could increase the fund's total capacity to 2tn-3tn euros.
But this idea was blocked by Angela Merkel.
Instead, governments are expected to agree that the EFSF can help out troubled eurozone governments such as Italy and Spain by providing partial guarantees to investors and banks who lend them more money.
There was also disagreement over the extent of losses that should be imposed on Greece's lenders, with Germany seeking a 50%-60% haircut.
The ECB opposes any such increase, according to a footnote in an internal document on the Greek economy leaked over the weekend.
There are fears that a unilateral default by Greece – such as a debt write-off without lenders' consent – could have unforeseen consequences, for instance by triggering payments under credit derivative contracts.
Another unknown element in talks is whether and how much non-European countries may provide support.
The price of copper – an indicator of market sentiment over the global economy – rose 6% in Shanghai trading. But after the markets opened in Europe, the rally lost some of its lustre.
The euro followed a similar pattern, rising half a cent against the dollar, before dropping back. By mid-afternoon in Europe it was trading at about $1.386, down 0.2% for the day.