Moody's has downgraded the credit rating of 12 UK financial firms including Lloyds TSB, RBS, Nationwide and Santander UK.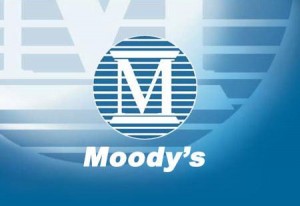 The ratings agency said it now believed that the UK government was less likely to support firms that got into trouble.
However, the firm emphasised that the downgrades did not "reflect a deterioration in the financial strength of the banking system".
Moody's also downgraded nine Portuguese banks, blaming financial weakness.
Shares in both RBS and Lloyds were among the FTSE 100's biggest fallers, down 3.7% and 2.7% respectively in afternoon trading.
Seven UK building societies were among the firms downgraded, a move that the Building Societies Association (BSA) called a "normalisation" that had "been expected for some time".
"It does not represent any change in financial strength and it is business as usual across the sector," the BSA said.
Analysts and investors watch closely the ratings that firms such as Moody's put on the creditworthiness of companies and governments.
Along with Standard & Poor's and Fitch, Moody's is one of the big three agencies. Their ratings influence heavily the amount interest that companies and governments pay to borrow money.
"The downgrades have been caused by Moody's reassessment of the support environment in the UK which has resulted in the removal of systemic support for seven smaller institutions and the reduction of systemic support… for five larger, more systemically important financial institutions."
The downgrades include a two-notch cut for government-controlled RBS, to A2 from Aa3, and a cut of one-notch, to A1 from Aa3, for Lloyds TSB, a division of part-nationalised Lloyds Banking Group.
Spanish bank Santander had its UK business downgraded by one notch, to A1 from Aa3, while Nationwide Building Society suffered a two-notch cut, to A2 from Aa3.
Other institutions downgraded were Co-operative Bank, and the building societies Newcastle, Norwich & Peterborough, Nottingham, Principality, Skipton, West Bromwich and Yorkshire.

The rating cuts did not concern HSBC, Barclays or Standard Chartered, Moody's said.
RBS said it was "disappointed" that Moody's announcement did not reflect the "significant progress" the bank had made to restructure it finances.
Lloyds said that it believed Moody's was reflecting what was already understood in the market, and that it would "have minimal impact on our funding costs".
Nationwide said that Moody's announcement was part of an industry-wide review, and "not a reflection of Nationwide's business model".
The Chancellor, George Osborne, said one reason for the downgrades was that the government was seen to be "trying to deal with the too-big-to-fail problem".
Mr Osborne said he was confident that British banks were well-capitalised. "They are not experiencing the kinds of problems that some of the banks in the eurozone are experiencing at the moment."
Moody's split the downgrades into three categories.
Banks with a "high likelihood of support" are RBS and Lloyds.
Banks or building societies with a "moderate or high likelihood of support" are Nationwide, Santander UK, Co-operative Bank, and Clydesdale Bank. Clydesdale's rating was reaffirmed, not cut.
George Osborne: "They think the British government is actually moving in the direction of trying to get away from guaranteeing all the largest banks in Britain"