A vote in Germany to sanction a measure for a debt-stricken country to leave the single European currency could open can of worms and could be detrimental to euro sentiment.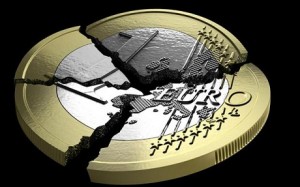 There are several data releases on tap today that will provide some short term influence on the Euro, including Q3 GDP and the November German ZEW survey.
Investors will likely pay no attention to an encouraging reading for GDP given the negative outlook for Q4. The forward looking ZEW survey will record a further drop highlighting the risks to Europe's biggest economy.
Spanish and Greek bond auctions may gain even more attention in the next few weeks.
This is following on from yesterday's Italian debt sale in which the yield on 5-year bond came in higher than the prior auction but with a stronger bid/cover ratio, markets will look for some positives from today's auctions.
Even if the auctions go well, on balance, relatively downbeat data releases will play negatively for the euro.
When viewing the euro against what is implied by interest rate differentials it is very evident that the currency is much stronger than it should be at least on this measure.
Both short term and long term yield differentials between the eurozone and the US reveal that EUR/USD is destined for a fall.
Europe's yield advantage has narrowed sharply over recent months yet the euro has not weakened.
Some of this has been due to underlying demand for European portfolio assets and official buying of Euro from central banks but the reality is that the Euro is looking increasingly susceptible to a fall.
EUR/USD is poised for a drop below the psychologically important level of 1.35, with support seen around 1.3484.