The Italian President Georgio Napolitano last night appointed former European commissioner Mario Monti as Prime Minister.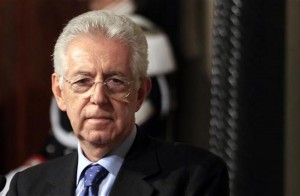 He replaces Silvio Berlusconi, who lost his majority in parliament last week and resigned on Saturday.
Mr Monti first task is to push through fiscal and structural reforms to stem the crisis hitting the country and boost its long term competitiveness.
The markets and Eurozone leaders hope Monti will usher in a period of calm after the panic of the last month.
He is expected to form a government of technocrats who are deemed to be above the previous government's politics and who will push through the necessary cuts to revive the Italian economy.
The Euro strengthened on the back of this news as some confidence in the single currency returned.
It is far too early to say whether the future of the Euro as we know it is safe or if more instability will cause leaders from Europe's stronger nations to re-think the whole setup.
The most common view is that Greece will leave the Euro at some point in 2012 and their have been rumours of confidential plans being put together by German leaders.
These include how the currency will continue if Italy and Spain were removed from the Euro.