It was akin to a game of chicken as David Cameron jockeyed to protect Britain's interests from the eurozone's fatal plans to avoid sinking.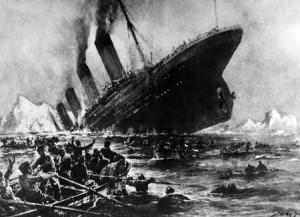 In the end Cameron blocked a crucial EU treaty as he did not get the safeguards that he was looking for.
So where does this leave Britain- isolated or very fortunate?
Politically Cameron has certainly put the cat amongst the pigeons with the Euro a political minefield in a liberal/conservative coalition.
The EU failed to agree Europe wide treaty changes and instead pressed ahead with a fiscal pact for the 17 eurozone nations plus anyone else who is stupid enough and wants to join from the remaining 27.
The Euro area has agreed tothrough good money after bad and make available additional resources of up to 200 billion euro to the IMF, the EFSF leverage will be rapidly deployed.
Private creditors will also be cheered by the removal of previous mandates exposing them to increasing percentage losses via  haircuts- now they are more protected through alignment with IMF principles and practices.
However back to the markets and the response was muted and slightly negative with Italian 10 year bonds rising back above 7pc and the euro unchanged after suffering losses yesterday.
At the moment it is unclear what the new status for the 17+ without a new treaty- on the face of it what we actually have is another stability and growth pact despite the political rhetoric.
In effect it is a step closer to a new treaty and a plan for a plan to move to fiscal unity.
The plan for unity however has been dealt a blow by the profound split with the UK potentially being joined by the Czech republic, Hungary and Sweden.
For the markets we still have unease, uncertainty and division which could spell turmoil for the financial markets.
For the currency markets I would expect that we will see the markets react cautiously as we await more news today.
Elsewhere Chinese CPI came in lower than expected and both Japan and Korea downgraded their GDP outlook.