After the blow to the euro following the Standard and Poor's ratings news on Eurozone countries, the currency has managed to regain some form of stability ahead of the EU Summit commencing tomorrow.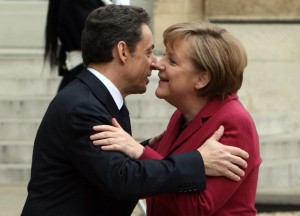 Hopes that the Merkozy French -German deal which was publicised on Monday will be finalised at the summit are high and the threat by S&P means that the stakes are getting higher should there be a halt in progress this week.
Apart from placing the ratings of fifteen Eurozone countries on negative watch, S&P stated that the EFSF bailout fund may be downgraded too.
The single European currency however, looks to have found form in advance of the summit and the ECB meeting tomorrow, as news of talks to structure the bailout fund into two separate forms looks to strengthen the currency.
In other news the decrease in the Royal Bank of Australia's new cash rate applied further pressure on the Aussie.
It's fair to say the timing of the cut was not fully expected however the Aussie drop was restricted by the somewhat neutral RBA policy report.
The announcement did not support the idea of additional easing in the months ahead coupled with the much firmer than expected Q3 GDP this suggests that markets are too dovish on Australian interest rate expectations.
The Euro has continued to fall lower against Sterling in recent times whilst teh Pound looks to have settled into a range.
Sterling sentiment has clearly deteriorated over recent weeks as reflected as the market looks to becoming increasingly short.
The Pound has not been helped with a run of particularly poor data  and yesterday's UK house price data was no exception, indicating a fall in November house prices alongside retail sales which dropped more than expected.