European finance minsters are struggling to finalise a plan to give extra money to the IMF, with the plan then to lend the money European governments.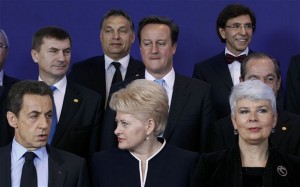 The hope was for €200bn to be pledged by euro Area governments plus money from those outside of the Euro including Britain and Sweden, but the amount committed so far is only €150bn.
Britain, quite rightly, feels since the IMF is a global institution any increase in funding should be global in nature and not confined just to European countries.
The constant disappointment the markets are showing over the lack of any clear resolution is keeping the Euro depressed and stock markets on the back foot.
Traders hoping for a Santa Claus rally look set to be disappointed as the markets wind down into Christmas.
You can tell the various statistic agencies are also preparing for a two week break, as data releases this week are few and far between.
The Bank of England minutes are due tomorrow and continue to be important in gauging when the MPC will expand its QE program, currently expected to be early next year.
Finalised Q3 GDP numbers are also due on Friday expected to show 0.5% growth, not enough to stop the UK re-entering a technical recession in the first quarter of next year.
US Q3 GDP is also due on Thursday along with durable goods orders which will almost certainly show the US economy plodding along at a rate neither low enough to force the Fed to act or improving enough to warrant withdrawal of the current monetary stimulus.
Expect the Dollar to hold on to its strength into the New Year.