German Chancellor Kaiser Angela Merkel told the Bundestag that a new EU treaty was necessary to work towards a "fiscal union" in Europe.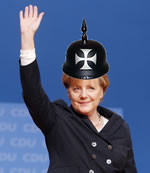 On Monday she met with French president Nicolas Sarkozy who also called for EU treaty changes.
In her own words she noted that such a step a few months ago was not even on the agenda and would have been considered crazy.
Merkel went on to say that the single currency would survive.
The markets have responded positively to the news as Merkel & Sarkozy for the moment are singing from the same hymn sheet, in addition it is perceived as an encouraging development that the crisis can still be resolved on a long term basis.
Yesterday Bank Of England governor Mervyn King strongly warned of a spiral into a systemic crisis and urged UK banks to sure up their capital reserves to act as a buffer in the event of a full blown Eurozone collapse.
The key date for the diary is next Fridays EU summit and it is likely we will see a plan from the Eurozone for its future- we certainly need to as we cannot expect to avoid a fallout without a comprehensive plan.
Reports that businesses have already commenced plans for a possible end to the Euro underlines the urgency of the situation on the current unsustainable path- it seems we are looking at a make or break scenario with closer unity or fragmentation.
The euro has weathered the storm pretty well and has been supported by recent bond buying through the ECB, global central bank action on the swap margin and the new united push to fiscal unity by Germany and France.
Next week however is a big week for the single currency.
Elsewhere the markets so far this morning have been pretty quiet.
Today we have the big one from the US in the form of non-farm payroll data, recent US jobless claims were disappointing which may dim the prospect of a good payroll number.
However a respectable number coupled with positive momentum on a plan for Europe could see some USD weakness as risk appetite increases and thus gains in EUR/USD and GBP/USD.