Yesterday's move in the euro tells you all you need to know about the markets confidence in European leader's current solution to the on going crisis.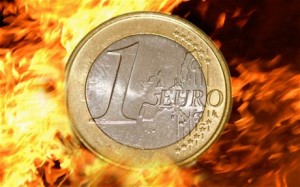 The fiscal problems of European governments have frozen the eurozone banking system to the point where banks are now almost exclusively only dealing with the ECB rather than other commercial banks, because the uncertainty over who and how much toxic sovereign debt everyone is holding has reached fever pitch.
The Euro-Dollar pair continues to trade towards the 1.30 level this morning which is keeping downward pressure on Sterling against the Dollar and slowly pushing the Pound higher against the Euro. The 1.30 level is key; if we manage to break through it to the downside, there is the possibility of a larger move lower but it is looking well protected at the moment.
The Federal Reserve minutes last night indicated the Central bank is continuing the wait and see strategy, indicating that it will wait for inflation to settle before another round of QE is considered.
The Fed also indicated the severity of the strain in financial markets indicating it posed significant downside risks to the economic outlook. Retail sales data yesterday was disappointing, especially given early reading from Black Friday suggested improving conditions in the American high street.
Two positive data releases in a row, well I never! UK inflation fell slightly yesterday and this morning unemployment data came in slightly better than expected.
The overall unemployment rate held steady at 8.3% but given that expectations were for a significant increase the mere fact that is unchanged feels like a huge positive swing. As with the Dollar the Pound will continue to play a back seat role as events in the Euro-Zone remain the primary driver of the markets.