Only days after gifting european banks nearly half a trillion euros, the European Central Bank (ECB) has reported receiving record cash deposits of 412bn euros (£344 billion).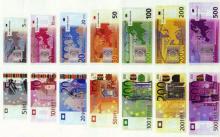 The total beat the previous record of 384 billion euros set in June 2010.
The rising usage of the ECB deposit facility since the summer reflects nervousness among Europe's banks about lending the money to each other.
The latest jump in deposits comes from cash lent to the banks by the ECB itself last week in order to ward off a fresh banking crisis and credit crunch.
The central bank provided 489 billion euros of its new three year loans just before Christmas, of which banks used some 200 billion euros to repay existing debts.
The rest has gone into cash accounts, including the deposit facility.
Cash from those loans arrived in the banks' accounts on Friday 23rd- just before Christmas.
The ECB's decision to offer the three-year loans – as well as a significant broadening of the types of collateral that the ECB would accept from the banks as security for its loans – had appeared to settle financial markets in the run-up to Christmas.
Prior to the ECB's interventions, there had been growing fears in the international financial community that a major European bank was about to run out of money and go bust, threatening to spark a full blown money market meltdown.
The ECB has in effect had to fill the role of a safe intermediary in the market for short-term lending between the banks – which is crucial to their functioning – by receiving their spare cash as deposits, and then lending it back out to those banks that find themselves short of ready money.
But the banks have to pay a price for the safety provided by the ECB.
They must pay approximately 1% interest on the loans they receive from the central bank, whereas the ECB pays them only 0.25% annualised interest on the spare cash they put in the deposit facility.