Money markets have fallen as eurozone finance ministers continue to force Greece's private creditors to accept a lower interest rate on their loans to Athens.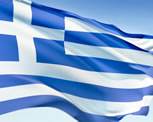 UK and French share indexes closed lower on Tuesday, while Wall Street fell on opening.
Euro ministers said creditors must take less than the 4% they had offered and urged both sides to reach a deal this week.
A deal is necessary for Greece to receive the bailout funds it needs. Without the funds, Athens will not be able to make billions of euros of loan repayments due on March 20th.
The FTSE 100 index in London closed down 0.5%, while the Cac 40 in Paris fell 0.3%, but the Dax in Frankfurt reversed earlier losses to close slightly up by the end of trading, gaining 0.4%.
The Dow Jones Industrial Average in New York was down 0.3% in morning trading.
Ministers confirmed that 130 billion euros (£108 billion) was available for the country, but also called on Greece to accelerate structural reforms to strengthen its economy before funds would be released.
However, Charles Dallara, head of the Institute of International Finance (IIF), which is representing Greece's private creditors in negotiations with Athens, warned Europe was putting a "decade of progress at risk" over the management of the talks.
He added the 4% figure was a firm statement of their intent. He said: "Our offer is on the table and our position is clear."
He added Europe must keep the support of the private sector, given the massive amounts of debt that have to be refinanced from France to Portugal.
He added that there was not a country that did not need investment from the private sector.
"Investors need to feel confident in their investments in sovereign debt," he said.  "There are a lot of issues that remain unresolved, and I'm not entirely sure the path to resolve them is truly framed"
The finance ministers, headed by Luxembourg's Prime Minister Jean-Claude Juncker, said they welcomed progress made in the talks between Athens and its private creditors, but called for an agreement "in the next few days".
Mr Juncker also made clear that ministers backed Greece over the rate of interest it should pay on new bonds that will replace existing bonds held by creditors.
Ministers reiterated that a deal with private creditors was essential for the European Commission, European Central Bank and International Monetary Fund to release further bailout funds.