A fresh wave of negative sentiment swept the wise money markets caused by doubts over euro banks' capital raising plans and Hungary's solvency.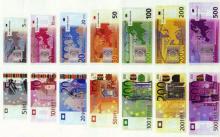 This led to investors selling shares in the continent's major lenders. Italy's biggest bank, UniCredit saw its share price fall by over 17% after it announced a heavily discounted rights issue, which valued stock at less than a third of it current price.
Over in Hungary, the yield on 10 year bonds soared to over 10% after the government failed to find enough buyers for the 45bn forints (£116 million) of sovereign bonds it was trying to sell. This combination of weakness in the Eurozone led to the single currency dropping to 15 month lows against Sterling.
This weakness in Europe was countered by positive data from both the UK and US.
The UK's biggest sector, services ended last year on a high while America's efforts to improve their jobs market showed signs of progress.
The US private sector added 325,000 new jobs in December and the non-farm payrolls are due out today with a rise of 150,000 jobs expected.
Overall, it has been a simple week for the markets with the euro continuing to be weak while the US Dollar remains the strongest of all as investors put their money into the global reserve currency.