German Chancellor Angela Merkel told Davos-"We need a big rethink".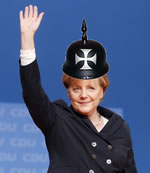 Germany's Chancellor Angela Merkel has told the World Economic Forum that a "big rethink" is needed in the eurozone within the global economy.
"Structural reforms that lead to more jobs are essential," she told delegates at the Swiss resort of Davos. "Do we dare to be more European?"
The eurozone is still struggling with a sovereign debt crisis and is trying to agree reform to its political system.
But many want Germany and other nations to boost the size of their rescue fund.
The International Monetary Fund (IMF) wants the eurozone to inject more cash into its rescue fund.
The IMF wants the sum available for bailouts to grow beyond 500bn euros (£416 billion) to ensure talks between private creditors and Greece do not grind to a halt.
The situation is urgent according to the IMF, which recently predicted that the economic growth rate in Europe could halve this year from an earlier estimate of 3.3% if the eurozone crisis remains unsolved.
Lessons learnt
Mrs Merkel disagrees with Ms Lagarde about what is needed.
"We have said right from the start that we want to stand up for the euro, but what we don't want is a situation where we are forced to promise something that we will not be able to fulfil," she said.
Mrs Merkel said that the austerity reforms being enacted – currently being felt from the Irish Republic to Italy – had to be balanced with reforms of how Europe is governed.
Mrs Merkel also acknowledged "tensions" between countries that have adopted the euro and those that have not inside the European Union (EU).
Given that the main euro paymasters Germany- and the IMF disagree on how to solve the euro credit crunch- there is only one way this story is going to go.
If you want to transfer your currency out of the eurozone, you can do so with our competitive currency converter service, please just click here now.