World money markets ended off a wild and difficult year in 2011.
The UK FTSE 100 fell 5.6% in 2011, while France and Germany stocks saw falls of 18% and 15% as growing fears for the survival of the euro took their toll. But US stocks ended the year up.
The Libyan revolution saw the oil price surge in the first half of the year, while the gold price set a new record high as investors sought its safety.
Meanwhile, the euro ended 2011 close to a 15 month low against the dollar.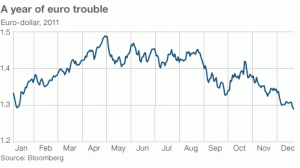 The eurozone crisis has had a massive impact on global markets, as investors nervously await a plan to ensure Italy's government can continue to support its enormous debts.
The US and Europe, including the UK, have also come to accept that it may be many years before their heavily-indebted economies regain their former dynamism.
Financial markets started 2011 in an optimistic mood. However, this was dramatically halted in the summer after the US lost its top AAA credit rating, following political deadlock in Congress over raising the country's debt ceiling – the legal limit on the federal government's total borrowing.
Much of the year has been dominated by the euro crisis, which came to the boil in August.
With fears over the future of the eurozone, many analysts say it could drop even further in 2012.
Of the heavily-indebted so-called PIIGS (Portugal, the Irish Republic, Italy, Greece and Spain) countries, Irish shares fared best.
France and Germany look likely to bear the brunt of the bailout costs for the southern European states – and this was reflected in the performance of their equity markets.
France's Cac 40 dropped 17.5% and Germany's Dax fell 14.7% over the year.
By contrast, the German market was the best performer in Europe in 2010, so it marks a dramatic change in fortunes for the European 'powerhouse'.
Overall, however, the UK FTSE 100 index is 5.6% lower on the year, having fallen from 5,899.94 to close at 5,572.28 over 12 months, with worries over the impact of the eurozone crisis doing much of the damage.
This is in marked contrast to previous years – 2010 saw a 9% rise, while 2009 saw stocks rise in value by 22% during the year.