The Bulls charged back into the money markets ring yesterday as they took a more optimistic view on global growth, in addition concerns on the euro zone debt crisis eased.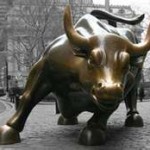 The move into risk was prompted by a series of positive manufacturing reports from around the globe, in particular China's PMI data remained positive.
The Pound was bolstered by a rise in manufacturing activity for the UK last month showing output expanding at the fastest pace since March last year- this helped the Pound hit a 2 month high against the US dollar.
In fact the US dollar lost across the markets, a rise in US manufacturing activity alongside China's data helped swerve the markets into risk on mode which is US Dollar negative.
Not surprisingly the US Dollar lost against the usual suspects- the Pound, Euro, Australian dollar and other commodity based currencies and emerging market currencies.
Surprisingly the US Dollar was also down against the safe have Yen and Swiss Franc-  this was due to nervousness on the threat of intervention by the Bank of Japan and the Swiss National Bank.
The current USD/JPY levels are very close to previous levels where the BOJ intervened in October.
In addition EUR/CHF is dangerously close to the 1.20 peg- currently trading at 1.2045- the SNB has said that it will intervene to weaken the Swiss Franc at the 1.20 level.
One to watch for the remainder of this week.