The fact that the second bailout for Greece appears to be stalling means markets will remain anxious, leaving risk assets susceptible to further falls.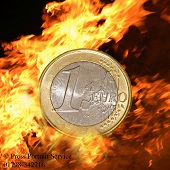 The Greenback will be the main benefactor in these conditions.
Poor Eurozone growth figures for Q4 2011 released today will compare with relatively firm data including industrial production and the Empire manufacturing survey in the US, leaving the story of US economic recovery unharmed.
The single European currency has lost some momentum and looks open to to additional falls lower.
The fact that EU finance ministers have cancelled a summit due to be held today means that markets will have to extend their wait for an agreement on a second bailout deal for the Greeks.
Reports that Greece's political leaders will send a pledge to European officials today that they will apply more austerity measures will provide some hope that things are moving in the correct course but an ominous cut-off date for debt redemption in March will mean increased anxiety.
Investors are still shorting euros although positions have moved close to its 3-month average suggesting less potential for insistent short covering.
After the downgrade of ratings of several Eurozone countries yesterday and the drop in Q4 2011 Eurozone GDP today, prudence will be the common theme today, leaving EUR/USD on the defensive and opening the door for a test of technical support around 1.3026.
So far today Sterling has fallen against the Euro and the USD following disappointing unemployment figures.
UK unemployment rose by nearly 50,000 to 2.67m with an overall rate of 8.4%.
Figures from the Office for National Statistics indicated that the average earnings rose by 2% until December which was unchanged.
These figures are well below the inflation rate and mean a continued squeeze on consumer spending power.