Amid wide scale protests, the Greek Parliament finally passed further austerity measures needed to secure another tranche of funding from the EU and IMF.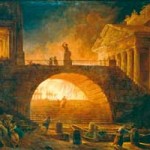 Not surprisingly the euro rallied overnight in the Asian session and is holding onto gains in early trading this morning.
Dissenters within the pro government parties were ousted, the conservative New Democracy party expelled 21 of 83 deputies with the Socialist PASOK party throwing out another 20 of its 153.
A warning from the Prime Minster that Greece was approaching "Ground Zero" applied enough pressure to get the vote through quite comfortably in the end, but how long the Greek political system can hold up in such harsh conditions is unclear.
There is rising support within Greece, and if you believe reports from the Germans too, for a withdrawal from the euro completely.
Whether they are pushed by the Germans, leave on their own terms or by a combination of both, indefinite austerity imposed by outsiders will eventually become too much for the Greeks.
This vote may mark the half-time interval for the Greek saga, the real fireworks are yet to come.
The U.K. Economy will avoid a double dip recession according to the CBI, but only just.
John Cridland, Director General of the CBI, estimates growth to be 0.2% in the first quarter, keeping the UK economy out of technical recession.
An optimistic forecast in our opinion, but the CBI are very well respected in the market and positive news is thin on the ground at the moment.
The Bank of England inflation report is announced on Wednesday and is expected to show a sharp drop in inflation and mirroring the Bank's forecast late last year.
Sterling is unmoved from Friday against the Euro and Dollar, the QE announcement was almost fully built into the price beforehand.