Wednesday trading began where it finished on Tuesday with the euro still tittering on a knife edge while Euro leaders wait for an agreement to be reached over the Greek debt deal.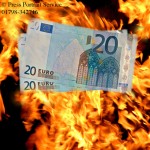 Discussions have been taking places for weeks now with Greek Finance ministers trying to arrange a significant cut in their debt to GDP ratio. Comments from these meetings have been released on a daily basis with the latest remarks stating that talks will conclude "very soon".
However, until this is signed off, risk to the euros future still exist with the potential for a Greek default growing with every week that the Greek debt isn't cut.
The other major story around at the moment involves the Swiss National Bank's strong stance of protecting their currency and its 1.20 peg against the euro.
Traders have been testing the 1.20 level and as yet, the SNB hasn't budged, but expect to see them move if 1.20 is broken as a strong Swiss Franc is really damaging their recovery.
Today is a relatively data light day with the majority of focus surrounding the Greek and Swiss situations.
Look for the US Dollar to strengthen on any negative comments from the debt discussion and investors will panic and run back into the safe haven at the first sign of trouble.