Europe's 17 eurozonegovernments have agreed to deliver €500 billion in a new bailout funds today in the hope of erecting a firewall big enough to contain the sovereign debt crisis and encourage the International Monetary Fund members to commit a similar sum to emergency reserves.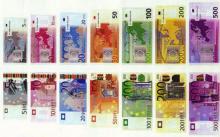 But the eurozone finance ministers, meeting in Copenhagen amid calls to erect the "mother of all firewalls", ditched explicit earlier proposals to keep a further €240 billion (£200billion) in reserve for the next two years.

The deal conformed to German prescriptions for a minimalist bailout fund, a recipe that the European commission in advance described as inadequate to the challenges confronting the euro.
Ministers nevertheless endeavoured to impress the bond markets, the Americans, and the Chinese, trumpeting the agreement as worth "more than a trillion dollars" in the hope that this will press the big IMF donors into doubling the monetary fund's reserves to a similar figure next month.
"We are now in a strong position for discussion on the IMF in April. It is a good signal," said the French finance minister, Francois Baroin.
"All together the euro area is mobilising an overall firewall of approximately €800 bn, more than $1tn," said a Eurogroup statement.
But that figure included €100 billion in bilateral loans to Greece from EU countries in 2010 as well as €200 billion to Ireland, Portugal and Greece from the temporary eurozone bailout fund which closes next year, although those three programmes will run their course until 2015.
The Copenhagen meeting degenerated into acrimony and some chaos when the Austrian finance minister, Maria Fekter, upstaged the eurozone leaders by first announcing an €800 billion firewall.
Jena-Claude Juncker, the veteran Luxembourg prime minister who has been chairing the eurogroup for eight years and whose term expires in June, threw a hissy fit and cancelled a media conference at which he was to unveil the decisions.
The new money comes in the form of the European Stability Mechanism (ESM), the permanent eurozone bailout kitty and embryonic European Monetary Fund which starts in July. The ESM's launch has already been brought forward and ministers on Friday also agreed to speed up the process of paid-in capital to get the fund fully operational within two years.
Its lending capacity was capped at €500 billion, as has long been planned.
A draft statement yesterday said that the spare €240 billion would be held in reserve for emergency use, but was dropped today.
The permanent fund's lending capacity hinges on €80 billion being paid in five instalments till 2014 in order to retain a triple-A credit rating, meaning that it could be two years before the fund is operating fully as foreseen.
But the parallel running of the current temporary and the future permanent funds will ensure a lending capacity of €500 billion, the ministers said.