EU officials are desperately trying to convince private holders of Greek bonds to accept a crucial debt swap deal ahead of today's deadline.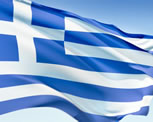 In order for Greece to receive a second bailout it will need at least two thirds of bondholders to take a 53.5% cut in the value of their holdings and the deal is considered essential in Greece's attempt to avoid a default.
According to the Institute of Finance yesterday just under 40% of the bond holders had agreed to the new deal leading to a nervy countdown at 8pm GMT deadline later today.
If the total number of bond holders reach the required 66% (approx €150bn) agree to the swap, the government can force the other bond holders to take the haircut too.
Remarkably the euro remains relatively resilient in the face a Greek default up slightly against the Greenback reaching 1.3217.
Back to the UK and Quantitative Easing has knocked £90 billion off pension funds according to National Association of Pension Funds (NAPF).
The news came from two recent studies and blamed lower bond yields and consequently pushing final salary pensions further into the red.
Joanne Segars, Head of the NAPF, said: "Businesses running final-salary pensions are being clouted by QE.  Deficits that were already big now look even bigger because of its artificial distortions.
"Firms are legally obliged to fill the deficits, and that diverts money away from jobs and investment, and will lead to further closures of final salary pensions in the private sector," she explained.
Finally, today we have interest rate decisions in the UK and Europe both expecting no change and consequently little FX impact.
Reduced revisions to ECB growth forecasts will however, could underpin a more negative tone in this afternoons press conference.