Sentiment remains the primary driver of the euro as the single currency sold off sharply in afternoon trading yesterday after Eurozone members decided to delay more than half of the €130bn Greek bail-out funds.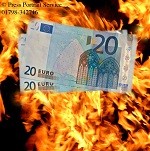 A decision that was supposed to finally put to bed the Greek issue, at least for a couple of months, has managed to calm volatile markets for less than two weeks.
Thirty eight different measures need to be implemented by the Greek government before the remaining €71.5bn is handed over.
This may be as early as next week. But slicing the payment in two allows hardliners in the Netherlands and Germany a foot in the door and the potential for further delays.
It is this uncertainty which is hurting euro sentiment and pushing the Sterling pair back towards the 1.20 level.
Sterling remains stuck in recent trading ranges and as expected this week's construction and manufacturing PMIs have not moved the Pound at all.
The manufacturing number was lower than expected and was cancelled out by better than expected construction figure this morning.
Next week is huge for big ticket data with the ECB and Bank of England rate decisions and the US non-farm payrolls the highlights.