The euro suffered again overnight as reports in various papers talking up the possibility of Greece badly missing their deficit targets.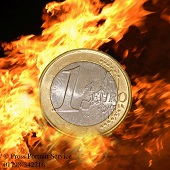 The news has caused another shift out of the euro as investors have looked for safer places to invest their funds.
The articles, if proven true, will add yet more pressure onto the rest of Europe with major doubts already surrounding the success of the latest bailout for Greece worsening.
However, unlike when Greece was still seeking this bailout, the US Dollar hasn't been the sole beneficiary.
Sterling has held its own against the Greenback by slipping back only 1 cent compared to the 3 cents it lost last time.
This is partly due to improved sentiment which was kick-started by the US with strong data realises from their jobs sector.
The UK announced its latest employment figures today with the unemployment rate remaining at 8.4%, a set of results which weren't too bad.
Apart from this, it is another data light day with little of note being released. We can expect the US Dollar to remain strong as fears being to grow about Greece's latest bailout.