The UK has offered just under £10 billion in loans to the International Monetary Fund (IMF) to help economies in trouble.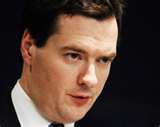 It is part of a global effort to bolster the fund's lending capacity, which IMF managing director Christine Lagarde wanted to increase by £250 billion ($400 billion).
The UK is not alone in funding the lifeboat. Japan will contribute $60 billion, Australia $7 billion, Singapore $4 billion and the Republic of Korea $15 billion.
The IMF had already received commitments of $320 billion.
Finance ministers from the G20 group of leading economies discussed boosting the IMF's resources at a meeting in Washington.
Mr Osborne said the loan was important to the UK: "It's in Britain's interest that we have a stable and strong world economy – that creates jobs in Britain."
He added that any loan made would bring in a return in the form of interest.
He can lend up to £10 billion without parliamentary approval because Parliament has previously approved £40 billion of loans, of which only £30 billion has so far been committed.
But this latest pledge is unpopular with some members of Mr Osborne's Conservative Party, who had been urging him not to sign up to an increase.
Backbench MP Peter Bone described the decision as "bonkers", describing any efforts to prop up the eurozone as a waste of time.
The UK Independence Party leader, Nigel Farage, said: "[Mr] Osborne must tell the IMF that he will not donate one more penny piece to the failed euro bailouts."
The Treasury says its contribution to the IMF is not public spending. All UK loans to the IMF are financed from the UK's Official Reserves, remain UK assets and do not contribute to public sector net debt.
The IMF hopes that if private investors think that countries in trouble can be rescued if necessary, they will be more willing to lend to them and any funding problems will not escalate.
It has already warned that the eurozone's debt crisis poses the biggest threat to the global economy, and warnings about Europe are expected to top the eventual communique from the meetings.