Mervyn King has lived up to his nickname as "Merve the Swerve" as he rejected criticism for the financial credit crunch crisis.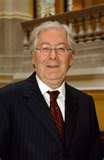 He blamed the banks, the system and the decision to de-regulate power from the Bank of England in the past.
Mervyn King went on to talk about the challenges facing the banking infrastructure going forward with a need for regulation, resolution and restructure which will be demonstrated next year when the BoE's new financial policy committee will have the power to regulate banks.
King supported the idea of ring fencing high street bank operations so they have their own financial cushion to avoid failure and noted the necessity for a framework to allow a bank to fail without being nationalised.
Over to the markets and UK PMI services data has just come out significantly worse than expectations with a fall to 53.3 from 55.30 in March, however UK service expectations improved.
UK Nationwide House Price data also came in weaker than expected.  Nationwide expect house prices to be flat or moderately lower over the next 12 months.
The Pound is relatively unchanged on the data.
A key event today is the ECB meeting, it is widely expected that rates will remain on hold but there is an outside chance of a rate cut.
The key focal point will once again be the press conference following the meeting where Mario Draghi will face key questions on the outlook for Europe.
Recently we have been hearing calls for a clearer strategy on how to tackle slumping growth in the eurozone and what role the ECB can play in assisting the system.