Despite the lack of liquidity yesterday there was little reprieve for markets, with any gains quickly given back.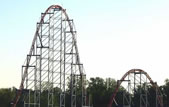 This has become a familiar trading pattern over recent weeks and looks set to continue until we get a Greek election result and whilst concerns over Spanish banks gain more attention.
Coupled with the increasing global growth uncertainties this means money markets find themselves in a sticky situation.
The lack of headline data today, with only German inflation and US consumer confidence of note, suggests that there will be little distraction for markets to avoid the Eurozone debt crisis.
This has been reflected in EUR/USD, as this hit a recent high of 1.2625 helped no doubt by the fact that positioning was at record short levels.
Though, the jump was rapidly sold, leaving the single European currency susceptible to a fall below 1.2500.
A second round sell off in Spanish debt as banking sector woes strengthen prevented any helpful impact from weekend polls in Greece indicating further support for austerity parties.
So far today we have seen Spanish retail figures disappoint showing the biggest fall since records began in 2003.
The numbers fell by 9.8% against the same month last year according to figures from the National Institute.
The figure was far worse that expected and was the 22nd successive month of flagging retail sales.