Following the announcement over the weekend that Spain was obtaining access to €100 billion for its struggling banking sector, the money markets rallied, boosting risk assets whilst safe haven assets were pressured.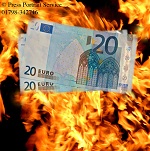 This was certainly the case in the morning session yesterday, however as the day progressed it became clear the market viewed this as a temporary fix, resulting in Spanish and Italian yields tipping well over 6 %.
It was a similar situation in the equity markets with the Dow Jones falling 1.1% and the FTSE down 0.2% following an earlier climb of 2%.
As for currency markets the Euro reached a two and half week high at 1.2649 but as market sentiment switched, this finished at 1.2502.
For final clarification of how the market viewed the bailout, Fitch the rating agency downgraded the two Spanish banking powerhouses of Santander and BBVA last night from A to BBB+.
With the Greek elections this weekend it will ensure the euro will have a turbulent week.
Greece's close neighbour Cyprus announced yesterday that it is heading towards its own bailout because its banks have a huge exposure to Greece.
The communist Cypriot government has struggled to borrow from the bond market for 12 months as investors lost confidence in their ability to repay debt.
The fear in the market now is that Italy may follow Spain and Greece in needing a bailout which was reflected in the bond market prices mentioned above.
Back to the UK and the property market is still stagnant according to the Royal Institution of Chartered Surveyors (RICS).
In the last quarter they reported sales on only 23% of homes on their books as opposed to 41% in 2007.
The drop has been largely attributed to reluctance in lending from banks to potential home buyers.
"Ongoing economic instability in the UK and overseas has continued to undermine consumer confidence, and the reluctance of many banks to offer affordable mortgage products has created something of a stagnant market" according to RICS.