Last week the Bank of England and the ECB both announced further monetary policy stimulus in reaction to a deteriorating economic picture in Europe.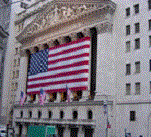 Last night the money markets were focused on how likely the Federal Reserve is to follow suit, and announce something more aggressive than extending operation twist.
In their latest minutes the Fed was split between those who thought further stimulus was already warranted and those in the wait and see camp.
A 'few' members thought further policy stimulus would be necessary to promote growth and employment but 'several' others noted further action could be needed if the economic recovery loses momentum, or if inflation seemed likely to run persistently below the Fed's long-run target.
The overall take away from the minutes is probably that the Fed still feels the US economy is in the lower bounds of the goldilocks zone, still performing sufficiently well not to warrant further stimulus, but ready to take action should conditions deteriorate.
Nothing new there.
Most interestingly, the Fed mentioned for the first time that the continued purchases of longer-term treasuries may lead to adverse effects in the functioning of financial markets.
Hopefully the Fed Chairman will expand on this point moving forward, since the prevailing wisdom seems to be the Fed would continue expanding QE operations for as long as it takes to get the US economy on track.
The net effect across the currencies has been another round of strength for the US Dollar.
There is a general sense of risk aversion in early European trading after Australian unemployment rose slightly and South Korea unexpectedly dropped its key interest rate by 25 basis points, and the commodity currencies and Sterling are all trading lower than yesterday evening.