European stocks have surged and the euro has climbed up above the 1.22 level that it breached overnight, as the German Chancellor Angela Merkel re-affirmed her tough stance on measures towards solving the region's debt crisis.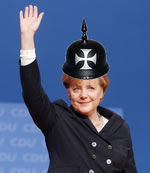 Eurozone inflation data was released on Monday night, though the consistent reading as per last months figures failed to move the markets with volatility and trading being thin.
There is also talk circulating that we could see a deposit rate cut by the ECB from its current level of 0.75%
The majority of action came in the American session with very poor US retail sales data yesterday raising speculation once again that the Federal Reserve will need to step in with easing measures to support the economy.
This morning the market for EUR/USD has been quite steady as investors await Bernanke's Congressional testimony later today.
A quiet, slightly risk-off session during Asian hours on Monday saw the Pound soften moderately, moving lower from opening levels but has rallied yesterday against most currencies following Merkel's re-affirmation of Germany's tough stance in resolving the European debt crisis.
A decrease in the house price index kept some downward pressure on Sterling; however Dollar weakness ultimately emerged as the driving theme later in the day.
The IMF has slashed the UK growth forecast for the economy at 0.2% for this year, sharply lower than the 0.8% forecast earlier in April.