Negative sentiment once again is emanating from Europe, reflected by Spanish yields reaching new highs and this carried over into US equities with the S&P500 ending down by 0.9%.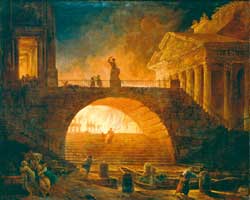 In Asia stock indices are trading in negative territory this morning with the Nikkei down by 0.2%.
In the money marketss the euro US Dollar is under pressure and trading just above 1.21.
The nerves were jangled by credit ratings agency Moody's warning that the outlook for Germany's AAA credit rating is negative, the first step towards a possible downgrade.
Moody's said that the country was at risk from the increased likelihood of a Greek exit from the euro and the need to provide more support to Spain.
But the major concern was Spain which saw its borrowing cost rising above 7.5% which is grossly unsustainable.
The German finance minister is to meet the Spanish economy minister in Berlin as the pressure ramps up.
In addition today representatives from the troika of international lenders arrive in Greece to assess its programme on reducing its debts with the view to allow the last tranche of the aid package agreed in March.
Therefore today will be centred upon news from Europe and notably Spain and their cost of borrowing.