It was revealed that ECB president Mario Draghi will not be attending the Jackson hole summit, raising further speculation for the bond buying programme by the ECB.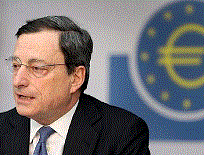 There are reports that they are willing to buy bonds but with only short term maturities.
Draghi has attributed his absence in attendance at the summit to a heavy work load, with markets believing that they may announce their plans at an earlier date.
The euro has consolidated its move upwards since last week reaching a high of 1.26 against the US Dollar.
There has been some news from Spain that the banks in Catalonia, have sought a €5 billion bailout.
Spanish prime minister Rajoy, wants the EU banking union to try and implement plans to set up a single banking supervisor to cover the euro area.
Stocks in the US fell yesterday as the consumer confidence index fell by its largest margin in the last 10 months.
While confidence is at a new low, markets will look for some direction after the US GDP figures which are due to be released later today.
The US Dollar has remained weak in subdued trading this week as investors wait for Fed chairman Ben Bernanke's speech at Jackson hole later this week.
There is increasing speculation, that they may announce a further round of quantitative easing, as the US economy loses confidence.