Jackson Hole is almost upon us.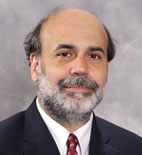 The question remains whether the Chairman will make the announcement the wise money markets want – further QE – or disappoint it by "only" announcing an extension or modification to operation twist.
Market sentiment about the likelihood of this has oscillated wildly, from nailed on certainty last week (after the Fed minutes) to looking increasingly unlikely after the continuation of positive US data this week.
US growth for the second quarter was revised up as expected to 1.7% from 1.5% and positive personal consumption data is due out this afternoon.
Ben Bernanke is due to speak at 3pm tomorrow, followed by the Bank of England's Andy Haldane and Adam Posen.
The Dollar has remained remarkably stable over the last few days, but whatever happens tomorrow we can expect increased levels of volatility as we move towards the ECB meeting next week.
Speaking of which- as we posted yesterday, the ECB President Mario Draghi is staying in Europe rather than attending the serious policy meetings taking place in America.
The thinking is that the ECB  is trying furiously to put together a plan to cap bond yields whilst placating the Germans.
Whether the ECB are able to achieve this before the upcoming meeting is still up in the air.
The market certainly hopes so, but the complex issues of conditionality (what Spain and Italy will need to agree to) and whether private investors get shunted down the pecking order if the ECB steps in, need to be ironed out.
They will both take time, suggesting it may be October before the ECB can act.
How would the markets take a double dose of disappointment?