The UK government unexpectedly had to borrow £600 million in July- which is usually a good month for tax receipts.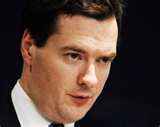 According to the Office for National Statistics there was a surplus of £2.8 billion in the same month a year earlier.
The Treasury blamed disappointing corporation tax receipts.
Analysts suggest the government could end up borrowing about £30 billion more than last year, when official forecasts had suggested borrowing would fall this year.
The Office for Budget Responsibility, the official UK economic forecaster, said there was still "significant uncertainty" about the outlook for borrowing this year.
Four months into the financial year the government has borrowed £44.9 billion, £9.3 billion higher than the same period in 2011. That excludes banking interventions and the one-off boost in April from a transfer of Royal Mail pension assets to the public sector.
The OBR had predicted that borrowing on the same measure would be £120 million for the whole of the financial year, down from the £125 million borrowed last year.
The government received 0.8% less in tax than a year earlier due to a drop in corporation tax receipts. Income tax, national insurance and VAT held up, while spending, which includes welfare payments, was more than expected.
A Treasury spokesman said: "The government remains committed to the credible plan we have set out to deal with Britain's debts."
July is usually a good month for tax receipts, meaning the government normally makes a surplus, because it is the month that businesses make quarterly corporation tax payments and individuals' tax self-assessment returns are recorded.
But some said this month's figures should be treated with caution as corporation tax receipts are affected by the temporary closure of the Elgin gas field due to a leak.
The ONS also warned that the timing of self-assessment returns – which are recorded in August as well as July – makes direct comparisons between years difficult. More returns that usual may be recorded in August, as the deadline is the last day of July.