As the wise money markets continue to digest the dark and gloomy picture painted by Sir Mervyn King on Wednesday, the trade balance data from the UK was released yesterday with more disappointment to add to an unfavourable week for Sterling.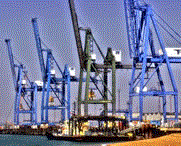 The data yesterday showed an increase in the trade deficit after a positive run last month with a figure of -£10.1billion verses a consensus level of -£8.6bn.
The 1.7% rise in export of services could not cover the fall in goods export with the Queen's Jubilee having an effect on economic activity.
The situation is now calling for more proactive measures from the government to tackle this issue and also to find more sustainable and long term export markets outside of the EU with George Osbourne confirming the government can now focus 110% on finding growth.
This is in stark contrast to the better then expected fall in the American trade deficit figure with a figure of -$42.9bn being tallied up versus the -$47.5bn expected and shaving off $5.1bn on the June figure.
Also jobless claims better then expected with a 6k drop against last months figure of 367k and 9k better then expected.
The biggest market mover and more alarmingly came from China; Chinese trade balance showed a dramatic drop to 25.1bn Yuan from an estimated 35.10bn that was expected.
Although this still provided a trade surplus it is more evidence that the slowdown is having a continuing affect on China and the 'hard landing' for their economy is fast approaching.
This has led some economists to believe stronger policy easing is imminent and likely within days rather then weeks, as previous measures are failing to keep their economy and key markets afloat.
Exports rose 1% YoY below forecasts of 8.6% and 4.7% import rise YoY but is still short of the forecast of 7.2%. exports to EU fell by 16%.
The poor figures have had an immediate effect on world stock and equity markets with them falling across the board in Asian and opening European trade.
We have seen a rally in the USD off the back of this with GBP/EUR remaining relatively unchanged. EUR/USD has been moving around this morning from the volatility and without the firm ECB measures to help prevent another run on the euro.