Moody's the credit ratings agency has changed its outlook on the Aaa rating of the European Union to negative.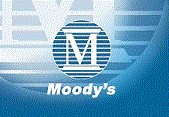 The view is that the bloc could be downgraded especially if we see a downgrade in the ratings for Germany, France, UK or the Netherlands.
The euro seems to have brushed aside this negative news and is gaining against the US Dollar and the Pound.
The money markets seem to now be looking to the ECB in the light of the news to act sooner and provide details of a new debt-buying scheme.
We have the ECB meeting on Thursday and expectations are rising that we will hear something substantial from Mr Draghi.
Today we also have Greece's finance minister presenting his blueprint for the 11.5bn austerity measures to Germany's finance minister in Berlin.
Meanwhile back in Athens, Greek PM Samaras and coalition partners will be continuing to thrash out details tomorrow and Thursday ahead of the visit by the EU commission, ECB and IMF.
Elsewhere it was confirmed that the Reserve Bank of Australia left interest rates unchanged at 3.5% and comments post meeting were actually less dovish than expected- however this had little impact on the AUD which has weakened in the last 2 weeks.