Decision day looms for the German constitutional court.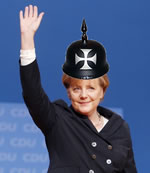 The eight judges that sit in Germany's highest court dismissed a last minute attempt to delay the vote on the creation of the ESM, the €500 billion permanent bail out fund and we will know by the end of today whether the replacement to the EFSF can be formally set up over the next few months.
Much like the ECB bond purchase announced last week, the market is looking for the exact details and conditions the judges will attach to the fund and there is quiet confidence that there will be no outright block to creation of the ESM.
The euro has continued to rally overnight as we build up to the announcement, already pricing in that the vote will pass without a hitch.
The risk therefore remains to the downside should any of the judges, two of whom are known to favour a referendum, throw a spanner into the works either by voting against ESM creation or by attaching to stringent conditions for the creation of the fund.
UK jobless numbers are due today but with the EU decision and the Federal Reserve meeting tomorrow evening the impact on Sterling will be muted.
Consensus expectations are for there to be no change in the jobless numbers from last month, making this probably the least interesting data release (which is saying something) in a good while.
Sterling remains in the clutches of the EURUSD, steadily moving in opposite directions against the Euro and Dollar.
The short term currency converters path depends heavily on the vote above and tomorrow's Fed meeting.
The Fed Chairman is widely expected to announce another round of QE after dropping a huge hint in his Jackson Hole speech and the disappointing non-farm payroll data last Friday.
Equity markets and risk assets across the board are primed already for the announcement.