It has been rumoured that Spain could ask for an official bailout this week from the ECB.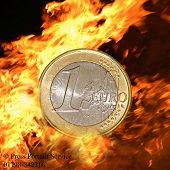 It would then become the first country to do so since the introduction of Mario Draghi's short term bond purchase program announced in the September meeting and this would be in addition to the bank bailout that has already been earmarked for the ailing state.
This could be announced to coincide with the report into the level of aid the struggling banking system needs to stay afloat, rumoured to be anywhere between €60 billion to €100 billion.
This is clearly weighing on investor confidence with Spanish Bond yields on the rise this morning.
Also, in a statement over the weekend that is bound to ruffle German feathers French Prime Minister Jean-Marc Ayrault has said he believes Greece should be given more time to meet the strict debt consolidation deficit targets set by the Troika on the proviso that it shows a sincere approach to the reform process.
This will do nothing to improve relations between the two nations with Germany recently agreeing to the legality of the ESM and are currently in discussions over a possible leveraging of the fund to increase the fire power it holds.
We are seeing the GB Pound/euro climb after the release and we are currently sitting around the 1 week high with EUR/USD struggling to hang onto the 1.29 level. GBP/USD has also begun to weaken this morning.
We have a quiet day in the UK and US today with notable data to watch for this week being US New Home Sales (Wednesday), Durable Goods Orders, Initial Jobless Claims and GDP QoQ with British GDP Thursday.