The number of people unemployed fell by 7,000 to 2.59m in the last quarter, against the previous three month period.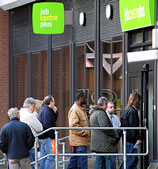 The overall rate was 8.1%, down 0.1% on the previous quarter.
The number out of work for more than a year was 904,000, the highest since 1996, official figures indicated.
But the Office for National Statistics (ONS) also said the number of people claiming unemployment benefit fell by 15,000 in August to 1.57 million.
The fall in the number of claimants was the largest since June 2010.
The ONS attributes the Olympic Games to have been the driver behind the jump in employment, with London accounting for 91,000 of the increase.
The number of people in part time work rose by 134,000 to 8.12 million, the highest level since 1992, when these numbers began to be collected.
This figure includes 1.42 million people – a record number – who would like to work full-time but are unable to find such employment.
Markets responded well to the German constitutional court's ratification of the ESM/Fiscal Pact laws.
The result, which was in line with expectations and clears another hurdle in the path to deeper European amalgamation, came with a few limitations.
The court specified that possible German obligations under the ESM are capped at EUR190 bilion and that additional increases would require parliamentary (Bundestag) consent.
Coupled with this, the court found that direct ESM access to ECB refinancing actions would be in violation of the law.
With key events in Europe all done for the time being, all focus will now shift to the FOMC policy decision today.
The Fed is expected to extend its rate guidance into 2015 and launch a third round of QE so expect some volatility on the USD dollar this afternoon.
Cable currently trades at 1.6119 and EURUSD is up to 1.2916 eyeing up the key level of 1.30 as QE rumours continue to haunt the Greenback.