The close of play last week saw highly anticipated data out of the US, the Non-Farm Payroll figure.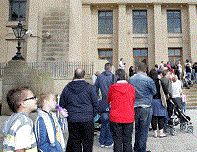 The country added a measly 96,000 jobs to the economy, in August, against an expected figure of 125,000.
This is a sorry state of affairs for the Federal Reserve as they are not meeting their target of keeping jobless figures below 8%.
However, this is seen as a bullish figure with the expectation within the markets of the announcement of further QE to be announced at the Federal Reserve meeting on Thursday this week.
Data out of China overnight revealed that exports and imports have continued to slow in an alarming sign to the government that further plans are needed to tackle the grave challenges that are facing the republic.
This has led many economists to believe that further policy measures are needed and even led JP Morgan to lower their outlook for the Chinese GDP to 7.6% in 2012 and 8.3% 2013.
It looks like another tragedy for Greece with the Troika of lenders rejecting around €2 billion of cuts and revenue generating measures from the government.
Although the meetings are expected to last a few weeks it is another setback for the struggling country and, unexpected it maybe, without the signoff from the Troika then the next €31.5 billion tranche will not be seen next month.
Friday saw the foreign exchange markets GB Pound/US Dollar breach the psychological level of 1.60 and EUR/USD hit above 1.27 both showing multi month highs on the back of the QE3 expectation from the Federal Reserve.