Wise money markets have continued to rally on the risk-on sentiment that began yesterday with almost all major indices closing the day on a high.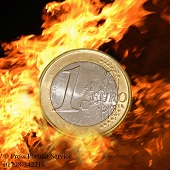 Despite stronger retail sales figures from the US- which we posted yesterday, the greenback came under increased pressure and moved lower against the euro and in turn Sterling to levels of 1.31 and 1.61 respectively.
Thursday evening witnesses the European summit which is of importance due to the fact that they will decide on a potential Spanish bailout.
There are reports that Spain may get a preliminary bailout after the softening of Angela Merkel's stance to provide the necessary aid to Spain, opening credit lines.
Although the news is not positive in the larger scheme of things, markets have rallied as the bailout could give the Spanish economy the much needed impetus that it lacks in its growth forecasts.
In the wake of positive sentiment emanating for the region, Moody's has not downgraded Spain, though the outlook for it still remains negative.
The economic survey in Germany propped the markets up further as it headed in the positive direction for the second month in a row.
US stocks rallied yesterday, moving the S & P 500 Index to its biggest advance in more than a month owing to positive corporate earnings in the region.
Industrial production figures for the US also came out better than expected in September after a decrease in August.
The greenback came under pressure as is the trend in a risk on environment.
From the UK, we had some CPI data out, which measures the inflation figures for the region which came in line with expectations of 2.2% for September.
This was a 0.3% decrease as per the August figures, though most analysts feel that inflation is set to rise with rising costs over the global economy.
However, the Bank of England can breathe easy for now, as they gain some room to enact further QE when they meet again next month.
This puts the focus to the next major UK data out today; the BOE minutes as the market looks for an indication as to the future course of action that they will take.