As the EU summit gets under way all eyes will be on how European leaders respond to the challenges facing Europe.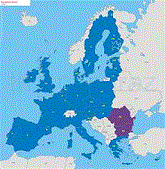 The aim of the summit will be to focus a drive for a more unified political and economic block as opposed to fire-fighting from one crisis to the next.
As we stand the market is awaiting news on a sovereign bailout request from Spain or at least a credit line to be put in place to ease on-going credit concerns.
With this expectation and positive talk from EU politicians ahead of the EU summit the euro is gaining.
EUR/USD has once again pushed back over 1.30 and is trading at the moment at 1.3125.
However as we stand Spain is still reluctant to request a bailout and the decision rests with them, it is a catch 22 as the recent fall in Spain's cost of borrowing actually eases the pressure for a formal request.
From the UK we have also had September Retail Sales which came in better than expected.
So the mood is upbeat so far today as we wait to see if Europe can follow through with the good momentum.
With hope on positive news to come from the EU summit and better economic indicators from China the markets are experiencing a move back into risk.
Asian equities are higher after Chinese GDP increased in Q3 and we also saw good economic activity indicators.
In addition to support the move into risk we had upbeat US housing data and confirmation the Moody's the credit ratings agency decision to maintain Spain's sovereign investment credit rating.