Market sentiment was boosted yesterday evening as the Eurozone leaders gathered for the second time in a week to try and chalk out an agreement with the IMF in order to unlock bailout funds for Greece.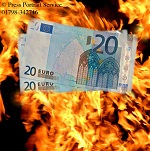 At the European close yesterday, markets in Germany rose and the French market recovered somewhat marginally, after they were downgraded by Moody's in anticipation of a deal being reached.
However, the meeting that stretched on into the early hours of this morning ended in a deadlock as the Eurogroup ministers failed to reach a decision and wrangle out a scheduled disbursement of funds.
The outcome of the euro leaders failing to do so has weakened the euro from 1.2825 levels, down to 1.2750.
There are reports that the leaders are considering allowing Athens to buy back up to €40 billion of its own bonds at a discount, to try and reduce their GDP figures to the 120% level within the next 8 years.
This muddled up, indecisive conclusion has brought back fears into the market that the eurozone crisis is not going away, and just prolonging the inevitable pain.
Martin Weale, of the Bank of England, issued a statement yesterday saying that inflation will continue to be much higher than estimated, for the next 2 years.
This has quashed any rumours of quantitative easing for the time being, as it would further aggravate inflation, which the UK economy can ill afford.
This morning, Sterling has been trading just above the 1.59 mark.
Any sort of clear direction from the 1.5850-1.59 range will come once we get some concrete information from Europe.
Meanwhile, in the US, Federal Reserve Chairman, Ben Bernanke issued a warning to markets stating that the US economy faces a substantial threat unless the government finds a way to avert the fiscal cliff due to kick off in January, as he admitted the Central Bank lacks the tools to avert it.
The greenback has strengthened largely due to safe-haven inflows as the Euro-zone crisis lingers on and a series of stronger than expected housing data releases out of the US, earlier in the week.
Construction of new homes in the US reached a 4-year high in October. We await employment figures later today from the US.