News that France's credit ratings was cut by Moody's dampened the mood, before a meeting by Eurozone officials to resolve the fate of Greece's €31.5 billion loan tranche.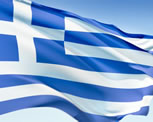 The French downgrade may weigh on markets this morning but expectations of progress towards a resolution to the fiscal cliff will keep markets lifted.
News from the Eurozone will do little to help the euro given anticipated weak PMI and a further drop in the German IFO business confidence survey this week.
Finally we may see some encouraging news on the Greek front if the country's loan tranche is permitted today.
However, any boost to euro sentiment will be short lived as negotiations about Greece's sustainability and differences among its creditors dominate the limelight.
There was a switch in sentiment overnight as the prospect of a US Budget deal appeared to be on the cards.
Discussions between Obama and Congressional leaders have been 'constructive' suggesting some sign of a potential deal at some point before the deadline.
The switch was supported by positive housing news from the US as home builders' confidence and existing home sales which both beat their forecasted figures.
Overnight and all eyes remained on the Bank of Japan meeting to see if it delivers on their promise to bring more easing over coming months.
There were no shocks from the BoJ but the Yen remains on the back foot in the wake of calls for "unlimited easing" by the opposition LDP party.
However, the outcome of elections is by no means clear cut and although the LDP will likely garner the lion's share of the vote its policies may be constrained by coalition partners.